Definition
An icon - in visual language is a symbol, pictogram or graphical representation used to communicate the object, thing, subject, concept, content, action or service without using words which conveys and hold its meaning through its pictorial resemblance that we can recognize in a second.

Icons are also known as a Common visual language which bridges the language gap effectively. They're everywhere around us, both online and offline. The number of icons we see on daily basis is countless. They change the way we communicate and they are widely used in digital content and on the internet because of their primary attribute - common visual language.

Nowadays, Icons are most effective used in Digital Content, Publications, Signboards, Books, Clothes and other stuff.
Icon design Principles
When you start designing your icons, the following principles must be followed to meet the Iconscout requirement.
Grid
It is very important to do research and gather the requirement for where the icon will be used. A grid must be provided base if you're designing icon for any large icon pack (i.e Google Material Design). The grid is not that necessary if you're designing the single icon. The Purpose of the grid is to contribute to creating consistent and uniform icons across all categories.
Size
Most important rules to apply when designing an icon is the Size. Before starting creating icons, make sure that where your icon is going to be used. If you're making icons for a web or screen, use any of the default sizes: 16x16, 24x24, 32x32, 48x48, 64x64, 96x96, 128x128, 256x256, 512x512.
Concept
The designing concept should be transmitted and communicate the right message and precise meaning. You must not design an icon without a clear meaning.

Dos and Don't  
Your icons should be well designed and crafted. Our creative content reviewer team will look over your icon before going live on Iconscout, So remember to take care of following things.


Clear and Consistent Style
Keep one design style through the icon. Don't try to merge multiple styles in a single icon. You can try and create your own style but at the end of the day, it should look minimal and communicate the meaning of an icon.
Clean Path
Your icons should be clean and have no excess or extra vector points or nodes unless you're designing in a hand-drawn style.
Proper Structured: Alignment and Spacing
Your design should be aligned properly. The spacing between objects plays a vital role in your design.
Unnecessary Elements
Your icons should not contain unnecessary elements as it muddles the viewer's perceptions.
Icon Pack
There will be a higher chance of use of icons if you designed all the icon of single or multiple categories. The user tends to use similar icons which shared the common look and feel. If you're designing an icon pack following things you need to take care of.
Grid
The grid is very important and necessary element for icon pack design. Most of the large, popular and advanced icon pack uses the grid-like Material design or iOs icons.
Style, Color and Lighting source
Consistent style is the key point for your icon pack to looks pretty and cohesive. Once you've decided the style, Color palette and effects, stick to it until you completed all the icons in a pack. Icon Pack should contain minimum 25 icons or more.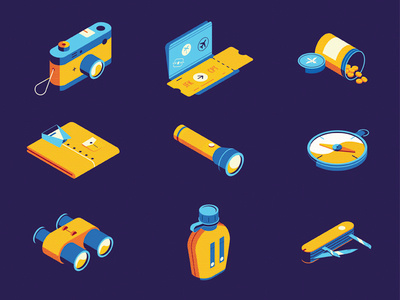 by Benthe Derks
Subject
Pack without subject or theme is useless. This is very important to choose the right subject to make an icon pack. The subject like Medical should contain icons of Health, Medicine, Vitamin, Doctor, Medical Accessories and so on.
Some of the icon pack from Iconscout
Bundle
The bundle is the set of icon packs. It followed by multiple packs in various categories shared by common or same icon style. Here are following things you must need to take care of during designing packs for the bundle.
Shared same style icon packs
Your all the icon pack should be in same icon style.

The example will be added.
(Acceptable vs Unacceptable)
Some of the bundles from Iconscout
Data will be added from Iconscout.
FAQ.
How to add icons in existing icon pack.
Add icon flow
How to add pack in existing bundle
Add new icon pack in bundle flow
Resources
Icon Design Handbook by Iconutopia

6 Easy Steps To Better Icon Design by Scott 


Tools
Adobe Illustrator
Inkscape
Sketch
Affinity Designer
Figma